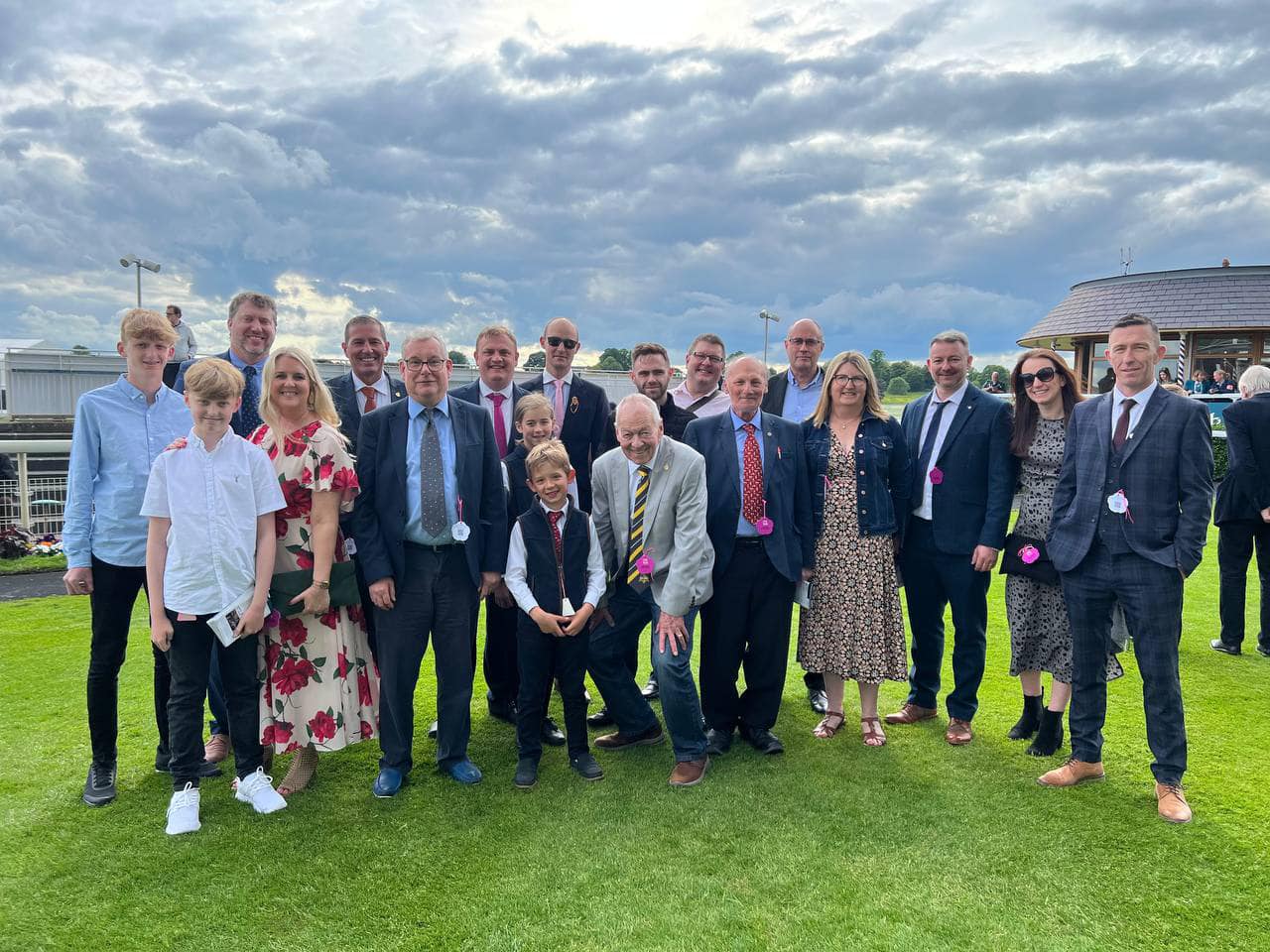 Becoming a Racehorse Owner
Owning a racehorse is a fun and exciting hobby which can be shared with family and friends. Becoming a part of the world of racing gives you the chance to meet new people and have new experiences. It doesn't just involve going to the races, when buying your horse you can accompany us to the sales and we always encourage owners to come and visit us at the yard to see your horse work up the gallops and enjoy the surroundings.
For many racing is a way of life; many of our owners say that watching their horse win is one of the most exhilarating experiences they have had. If you are one of the lucky ones you may win large amounts of prize money but owning a racehorse should not be seen as an investment but as a source of recreation and entertainment. If you approach ownership in this way you will get the most out of the experience.
There are many different ways to own a racehorse depending on what you can afford, we can offer a range of share percentages from as little as 10%, and different payment options to suit your needs.
Click here to see horses that are currently for sale.
Sole Ownership
You will be the sole owner of the horse, and will have to register as an owner at Weatherby's. You will receive all the owners' prize money and trophies; however, any costs will be yours alone.
Other benefits of becoming an owner include:
The initial purchase of your horse (Mark & Tim will help you find the right horse depending on what you're looking for)
If un-named, choosing a suitable name for your horse
Choosing your own personal racing colours
Visiting the yard to see your horse
Liaising with the trainer to discuss your horses' future plans
Watching your horse working on the gallops
Complimentary owners' badges when your horse runs
Attending the paddock area when your horse is running and discussing their race with the trainer and jockey
Photographs and videos if your horse wins
Co-ownership
Co-ownership of a racehorse involves the participation of more than one owner and is an extremely cost effective way of ownership. Whether you choose to get involved as a group of friends or wish to have a share or shares, no matter how large or small there are 4 types of co-ownership:
Joint Ownership can consist of between 2 and 12 individuals all of whom must become, or already be, registered owners. The horse(s) can run in either a joint ownership name or in the name of the individuals.
Racing Partnership can consist of between 2 and 20 individuals of which at least 2 must become, or already be, registered owners. We can run and manage the partnership to provide hassle free ownership or alternatively one of the partners may wish to do so themselves.
Company Ownership is in effect when your company owns the horse as a sole owner, but shareholders in the company participate as an owner through their shareholdings. This can be a great way of marketing your company and the horse(s) can also be sponsored by the company as a way of advertising.
Leasing a racehorse involves ownership of a racehorse for a set period of time, possibly for just one race or for the horse's entire racing career. Depending on the agreement between the lessor and the lessee the costs involved are only those which are incurred through the lease period.
Training Costs
We offer two options either paying a weekly rate depending on the level of work your horse is doing plus extras or a flat rate which includes all extras.
All Inclusive
100% share - £1475 + VAT per month
50% share - £737.50 + VAT per month
25% share - £368.75 + VAT per month
10% share - £147.50 + VAT per month
This excludes the cost of any surgery necessary and Weatherby's fees.
This applies all year round whether the horse is in training or at grass.
Weekly Training Rate
Your share percentage of…
£260 per week on Full Training
£200 per week on Walker rate
£140 per week on Box rest
£85 per week at Grass
£150 per week for Stabled Turn Out when resting (away from Yard)
Plus extras- your share percentage of -
Farrier - £80 (approx. every 3 weeks)
Transport - £1.15/mile (divided between number of horses)
Overtime - As per agreement between Stable Staff Union and the National Trainers Federation
Wormers - £10-15 (every 6 weeks)
Feed Additives - £30/40 per month (if necessary)
Vet - at cost
Dentist - £30 (as necessary)
Physiotherapist - £70 (as necessary)
You will be sent an itemised bill each month. All charges are subject to VAT.
We have several horses owned by syndicates who offer ownership options at affordable rates:

URSA Major Racing Club: https://www.ursamajorracing.com/
Royal Blue Racing: royalblueracing.co.uk
Maximum Racing: www.maximumracing.co.uk
Click here to see a copy of our Data Protection Policy.
The Yard is covered by sponsorship from Mark Walford Racing and Cube3 Construction Ltd, this allows owners who are VAT registered to be able to reclaim all VAT costs incurred by their horse(s). For more information, please Contact Us.
To find out more about racing in Yorkshire please visit Go Racing in Yorkshire